Exhaust Water Shutters
The Exhaust Water Shutters are located in the exhaust y-pipe. The shutters help prevent water from running back into the engine under certain circumstances.

When shutters get old they can make noise.
The shutters can start making a "clakity" noise.
The sound is often diagnosed as a bad lifter, connecting rod, gimbal bearing or a bad drive.
Bad shutters will only make noise at or just above idle.
Eventually a bad shutter can break loose and get stuck down in the exhaust pipe or in the drives exhaust passage.

If you have an older engine you might have the old 3-piece exhaust y-pipe. To replace the shutters in the old 3-piece style t-pipe the engine will have to be removed.

Newer y-pipes have the shutters located at the top of the pipe. The engine does not have to be removed to replace the newer style shutters. You will only have to remove the exhaust elbow from the manifold.

If your boat has direct tru-transom exhaust, your exhaust tips should have internal AND external shutters.

60930 Shutter $41.00
This is the most common shutter. It is sold in packs of one.
This fits models with the shaft in the center.
This fits inline 4 cylinders (GM and Mercury engines)(1982 and up) as well as 1973-76 Ford engines,
most 1985 and up V6 and V8 GM engines.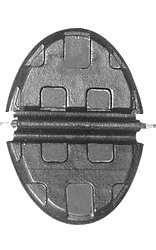 99370A2 Shutter $38.00
Sold in packs of one.
This fits models with the shaft offset to one end.
Fits model 185 V6 262cid (1985-87), 185 V6 229cid (1983-84), 200 305cid V8 (1985-86), and others.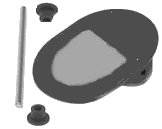 If you are not sure which shutter design you have, simply email us with your engine serial number.