Mercruiser Parts & Accessories

Sticking with Factory Mercruiser Transom (Gimbal) Parts only makes sense.

Sure, we could sell the cheaper aftermarket stuff too.
We don't like to sell aftermarket but we realize that some suckers
just feel better buying the cheaper stuff.

It's true. You get what you pay for.
If you buy the cheap crap, then don't whine when you have problems.

Mercruiser stands behind their products because they know that
having a defective Mercruiser U-Joint bellows is virtually unheard of.

Your transom assembly is subject to severe stress and abuse even while
running under normal operating conditions.
A faulty transom component could sink your boat or cause other damage or injuries.

Have it inspected on a regular basis by a Certified Mercruiser Tech.

Please note that we also handle all the gimbal ring kits and update kits.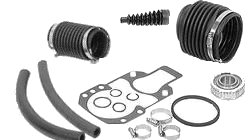 30-803097T1 Transom Seal Kit (Fits R, MR and Alpha One w/exh bellows) $263.00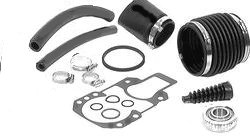 30-803098T1 Transom Seal Kit (Fits R, MR and Alpha One w/tube) $280.00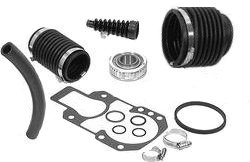 30-803099T1 Transom Seal Kit (Fits Alpha One Gen II) $300.00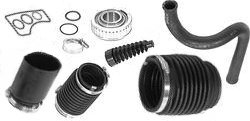 30-803100T1 Transom Seal Kit s/s to 8M0095485 (Fits Bravo and Blackhawk) $399.00


Click here for tools and procedures to replace your bellows.

DID YOU KNOW that Mercruiser now has a new style shift seal for the R, MR and Alpha One?
The shift shaft seal located in the bellhousing would fail and let water into
the shift cable pocket. This water would run up the cable and ruin it.
Open your engine compartment and look at your shift cable attaching plate.
Locate the cable that runs down to the drive and inspect the two side set screws.
These screws lock the core of the cable to the black plastic guide tube.
We sometimes refer to them as the "Frankenstien screws".
They are very small and have square heads.
Do the heads look all rusted?
If they are rusted chances are good that your shift shaft seal in your bellhousing
has failed and has allowed water to syphon up the cable.
Read much more about this at Replacing Your Alpha Shift Cable.

Mercury's solution was to improve the shaft seal design.
They now have a beefy brass bushing assembly which works well.
The Kit includes a new lever and set screw as well.
All you do is knock out the old seal and old guide bushing and tap
the new bushing into place with a little locktight.




45518T1 Bushing and Lever Kit $55.00


What?! You didn't find what you need?

Then it's time to call our parts experts.
Give our parts guy a call. He will find your part!

Email us at Sterndrives.com




[Main Index Page][Back to the Charts]



WE are NOT Mercury Marine.